We Got Country
September 9, 2012
I am excited to introduce our latest Thunderbolt: Gustin Prudner.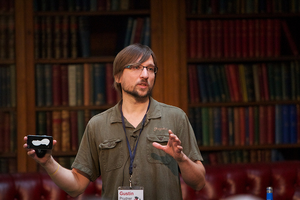 Gustin has been coding professionally for 18 years touching many domains from high performance sci-viz in the CAVE to global non-profits to complex publishing systems to local food distribution software to, well, almost everything.
Five years ago he founded Entryway software development, a consultancy that grew to please clients worldwide all from the small town Floyd nestled in the Blue Ridge Mountains. The focus of Entryway was to provide technical solutions for companies doing good things.
He organizes the annual Floyd Code Retreat and helped mentor during the Ruby Summer of Code.
He also co-founded and boot-strapped Seedleaf, a product that helps farmers sell their products directly to customers.
Gustin is another example of exactly the kind of person we're looking for here at Thunderbolt Labs — he's an outstanding developer, but he also knows personal interaction and how to run a business.
Oh yeah, he also owns 3 goats to help mow his 33 acres.